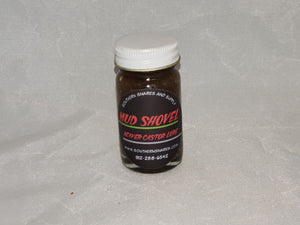 A TRIED AND TRUE CASTOR LURE, I'VE BEEN WORKING ON THIS FORMULA FOR SEVERAL YEARS NOW AND ITS ONE OF MY FAVORITES.
THICK AND RICH CASTOR WITH SOME ADDED INGREDIENTS MAKES THIS CASTOR LURE SUPER HOT. WORKS GREAT DURING WINTER AND EARLY SPRING TIME, BUT CAN BE USED YEAR ROUND AS WELL.
USE ON ALREADY MADE CASTOR MOUNDS OR MAKE YOUR OWN.
ALSO USE ON SLIDES WITH YOUR FAVORITE BEAVER TRAP.