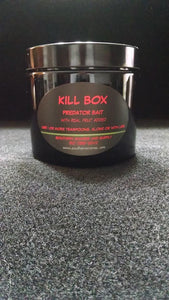 KILL BOX

 

IS A RED MEAT BASED PREDATOR BAIT WITH A TWIST, IT HAS REAL FRUIT ADDED! I'M NOT TALKING YOUR TYPICAL PERSIMMON HERE, NOPE NO PERSIMMON ADDED WHAT SO EVER! THAT WOULD BE TOO EASY. NO THIS HAS A VERY UNIQUE MIXTURE OF TWO FRUITS. COMBINED WITH THE UNIQUE SMELL AND FLAVOR OF BEAVER MEAT. 

KILL BOX

 

IS AN EXCELLENT BAIT FOR EARLY TO MID SEASON, AND WILL TAKE FOX, COYOTE AND RACCOON'S WITH EASE.

 

KILL BOX

 

CAN BE USED ALONE OR WITH LURE. USE ON FLAT SETS OR DOWN A HOLE. A PERFECT BAIT FOR ADC WORK AND NUISANCE TRAPPING DURING THE HOT SUMMER MONTHS. 
16 OZ