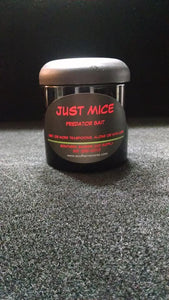 THE NAME SAYS IT ALL!  A NATURAL FOOD FOR MOST PREDATORS SUCH AS FOX, BOBCATS AND COYOTES.
 

 JUST MICE

 

HAS A VERY SMOOTH AND UNIQUE SMELL THAT PREDATORS WILL RECOGNIZE WITHOUT ANY PROBLEM.

 

JUST MICE

 

CAN BE USED DURING THE EARLY TO MID SEASONS BEFORE TEMPERATURES GET BELOW FREEZING CONSISTENTLY FOR AN EXTENDED PERIOD OF TIME AND CAN BE USED EVEN LATER IN THE SOUTHERN STATES. NO TRAPPERS BAG IS COMPLETE WITHOUT A JAR OF

 

JUST MICE

! GET YOURS EARLY. 
8, 16, 64, 128,  OUNCE CONTAINERS