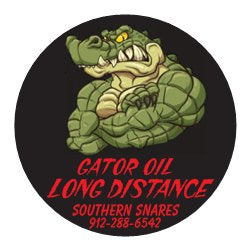 WE TOOK OUR BEST SELLING

 

PURE GATOR OIL,

 

ADDED A VARIETY OF PROVEN AND VERY UNIQUE INGREDIENTS TO IT, TO MAKE THIS LONG DISTANCE CALL LURE ONE OF THE BEST.  
USING JUST SKUNK IS GOOD BUT USING THIS WINNING COMBINATION OF INGREDIENTS IS THE ULTIMATE WAY TO GO!
THIS UNUSUAL BLEND OF OILS CAN BE USED AS A STAND ALONE LURE OR AS A VERY UNIQUE LURE INGREDIENT. 
WORKS GREAT ON COYOTE, BOBCAT FISHER, FOX MARTIN AND OTHER PREDATORS.
AVAILABLE IN 1 OZ AND 4 OZ