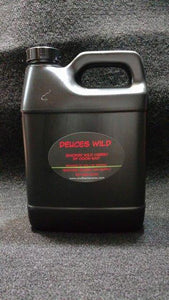 DEUCES WILD

 

IS A DRY PELLET STYLE BAIT THAT CAN BE USED IN DOG PROOF TRAPS AND CAGE TRAPS ALIKE. ITS BURNING CHERRY SMELL AND TASTE WILL DEFINITELY BRING IN THE CRITTERS!. 
WE STARTED WITH A SMALL PELLET STYLE DRY BAIT AND MIXED IN A SELECTED AMOUNT OF GRAINS AND CRUSHED CORN FOR EYE APPEAL AND EXTRA FLAVOR, WE THEN ADDED OUR ESSENTIAL OILS THAT MAKES UP THE INTENSE BURNING FLAVOR, THIS SMOKED CHERRY BAIT IS SURE TO PLEASE.
COMES IN AN EASY POUR 32 OUNCE CONTAINER.