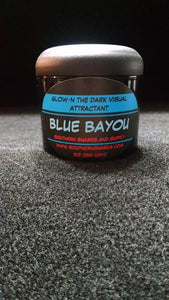 THIS ISN'T YOUR TYPICAL BAIT OR LURE. THIS WORKS OFF SIGHT ALONE.
 

BLUE BAYOU

 

CAN STAY GLOWING FOR 10-12 HOURS AND RECHARGES THE NEXT DAY IN SUNLIGHT. THIS GLOW-N THE DARK VISUAL ATTRACTANT WORKS EXCELLENT ON FLAGGING FOR BOBCAT SETS, OR FOR FOX'S COONS AND BEAVER'S. PUT A DAB ON A TREE, LOGS, GRASS OR ROCKS NEAR YOUR SET. SURPASS YOUR COMPETITION AND TIP THE SCALES IN YOUR FAVOR.

 

BLUE BAYOU

 

IS UNIQUE  AS IT IS EFFECTIVE. 
FOR GREEN GLOW-N THE DARK, CHECK OUT
GREEN MILE
4 OZ