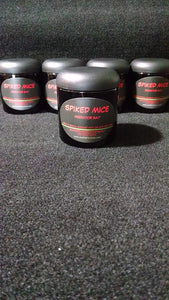 SPIKED MICE 
THIS IS NOT YOUR TYPICAL PREDATOR BAIT, HECK THIS AIN'T YOUR TYPICAL PREDATOR MOUSE BAIT.  THIS IS 8 OUNCES OF SMELL THAT BEGS THEM TO "COME GET SOME".
 

SPIKED MICE

 

IS A A MOUSE BASED BAIT THAT IS SLIGHTLY AGED. WE'VE ADDED OUR OWN MIXTURE OF GLANDS AND MUSK'S TO MAKE THIS SOME OF THE BEST PREDATOR BAIT AROUND. WITH SO MUCH CALLING POWER WE CAN BARELY CALL THIS A BAIT. IT CAN BE USED AS A STAND ALONE OR WITH LURE.  THIS ISN'T YOUR RANK OR FOUL SMELLING BAIT THAT'S ROTTED DOWN FOR A LOUD SMELL.

 

SPIKED MICE

 

IS LOADED WITH CREATURE CATCHING, QUALITY INGREDIENTS THAT ARE SURE TO PLEASE!

 

SPIKED MICE

 

IS DESTINED TO BECOME A BEST SELLER AND THE PINNACLE  OF PREDATOR BAITS. 


10,16 AND 64 OUNCE CONTAINERS.